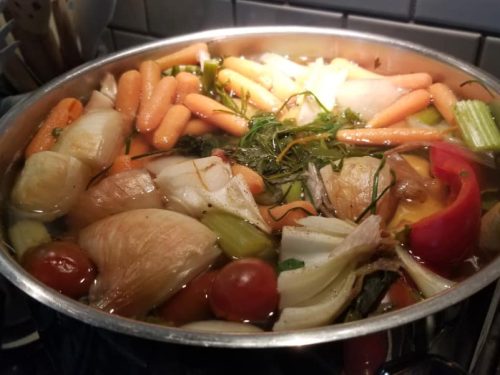 Most store bought sauces are loaded with sodium to help them last on the shelf. Making your own low sodium vegetable stock is so simple, and versatile. Make sure to save all your vegetable scraps and peelings throughout the week. Having mirepoix scraps on hand makes it easy to quickly throw together a vegetable stock whenever you need a boost of flavor in a sauce or chili.
Ingredients
12

qt

Water

2

tbsp

Thyme

3

Bay Leaves

2

tbsp

Black Peppercorns

6

Garlic Cloves

1/2

cup

Basil

1/2

cup

Parsley

1

cup

Celery

1

cup

Carrot

2

cup

White Onion

1/2

tsp

Salt
Instructions
Add all your ingredients to a big stock pot. Some people like to use a sachet for the herbs and spices, but if you do not have any cheese cloth on hand, you can just toss it all in there and strain it later.

Add water to the pot and bring to a boil. Lower heat to a gentle boil and let it go for 30-45 minutes.

Once your stock has been on for 45-60 minutes, turn off the stove and let cool. Once the stock is completely cooled down, strain into a separate vessel for later use. Discard veggies.
Nutrition Facts
How to Make a Traditional Vegetable Stock
Amount per Serving
% Daily Value*
* Percent Daily Values are based on a 2000 calorie
diet
.